On This Day in History - 10th June
10th June 1692 Bridget Bishop became the first person to be executed during the now infamous Salem Witch Trials. They were a series of prosecutions following a time of mass hysteria that resulted in twenty people being executed. Contrary to popular belief, none of those found guilty of witchcraft were burned. Nope, none of that "Burn the Witch," stuff.
Bridget Bishop was accused of witchcraft, tried, and then executed by hanging. At her trial she was said to have bewitched five young women, and that her shape pinched, choked, and bit them. She was also accused of using witchcraft to strike Samuel Shattuck's son with a spade. She was also found to have a third nipple. I was sceptical until the nipple revelation. But now, yep, a witchy witch who did witchy things. BURN THE WITCH.
10th June 1688 James Francis Edward, the Prince of Wales, is born. James is nicknamed the Old Pretender and was the son of James II of England, who was deposed by his daughter, Mary, and her husband, William of Orange.
The Old Pretender claimed the thrones of England, Scotland, and Ireland, and even tried a few times to retake them by force. However, James was raised and spoilt rotten in France and was a bit of a nitwit, and was unable to do anything about anything despite having a French army at his disposal.
During the Jacobite rising in 1708, he and his French ships tried to land in Scotland, but an English fleet intercepted them. James begged the English Admiral, Sir George Byng, to let him ashore, by crying, and crying some more, and then really crying. It didn't have the desired effect and he returned to France, in tears.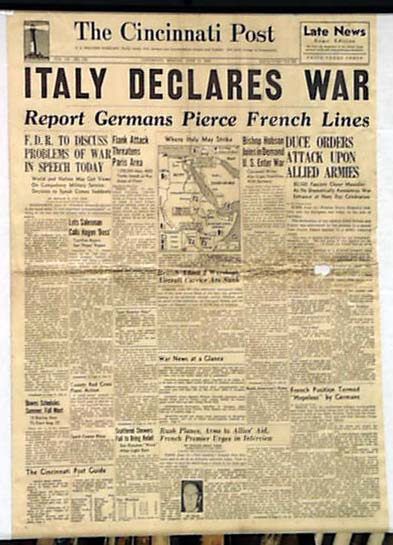 10 June, 1940, During World War 2: Norway is forced to surrender to Germany and Italy declares war on France and the United Kingdom. Meanwhile, the US President, Franklin D. Roosevelt, denounces Italy's actions with his "Stab in the Back" speech at a graduation ceremony at the University of Virginia. America isn't fighting in the war at this point, and won't enter into combat for another year and a half. But it was a good speech.
10th June 1921, Prince Phillip, Duke of Edinburgh, is born. And is actually born Prince Philip of Greece and Denmark. Then he shacks up with a young Princess Elizabeth, who later becomes Queen Elizabeth II, and quicker than you can shake a stick, the guy is a Duke and a Prince, and still not Scottish.
Prince Philip is the longest-serving "Other-Half" of any reigning British monarch, and has now become the oldest ever male member of the British Royal family. Yep, he's like, about nine hundred and something, or there abouts. Don't make me add that up, please. I'm a historian, not a mathematician.
10th June 1976, Esther Ouwehand was born. A lot of you are wondering who that is, and after this post, you'll still be wondering. Okay, I'll tell you. Esther Ouwehand is a Dutch politician. Not one of the main ones, although she does seem to be going places.
She was elected as a Member of Parliament for the Party for the Animals. Not kidding you. There is a political party in parliament whose sole purpose is animal rights.
Question of the Day (leave your answer in the comments below): Is Esther Ouwehand a vegetarian?